DIGGER DAVE EXCAVATIONS LTD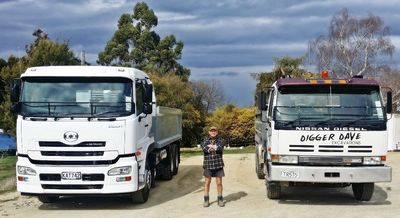 Dave Nicol of Roxburgh is the proud new owner of this CW26-380S with a CWS (Cambridge Welding Services) hard steel tipping body.
It replaces his trusty 1995 Nissan Mikado CW380 steel tipper with a healthy 850,000km on the clock.
Dave tows his 13ton Sumitomo Excavator between Raes Junction to Alexandra and over the hill to Moa Flat and everywhere in between on a 3 axle transporter trailer.
The UD Trucks CW26-380S is more than up to the task with an impressive 1859nm of torque from the GH11 litre engine and handy Escot V transmission.
Cheers to Dave & Linda for choosing CVC and UD Trucks.
Keep an eye out for Dave on your travels through Central Otago.