NASH & ROSS CONTRACTORS LTD - DUNEDIN
Nash & Ross Contractors Ltd of Dunedin recently took delivery of this all new 2018 Quon GW26-460 from Ken Seyb at CVC Dunedin, 14 years since the last new Nissan entered the fleet.
It replaces a Hino will work alongside a Volvo, another Hino and an Isuzu,
With the parabolic spring rear suspension, 460hp and the Escot VI transmission and a bin by LB Engineering this is the ideal set up for tipper work around the hills of Dunedin, a big thanks to Steve Ross for choosing UD Trucks and CVC.
CONTACT US NOW
BOND CONTRACTS LTD - INVERCARGILL
HIAB & TRANSPORT SOLUTIONS LTD - CHRISTCHURCH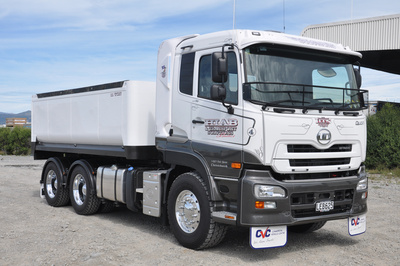 Christchurch based Hiab & Transport Solutions Limited have commisioned this UD Trucks GW26-420AS for their fleet, it has had trailer gear added and been fitted with a refurbished tipping body by TMC in Ch-Ch, this unit is also a swapbody and when it is fitted with the fifth wheel it can be seen mainly with a bottom dumper semi trailer, riding on Hendrickson air suspension and sitting on alloy rims with super singles up front and the bullet proof Escot V transmission this unit can be seen roaming around Canterbury, a big thanks to Chris and the team at HTS for choosing UD Trucks & CVC.
COMMERCIAL HIRE NZ LTD - DUNEDIN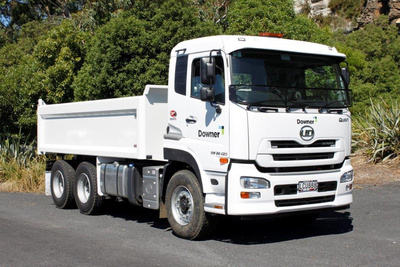 Set up by Transport Engineering Otago for Commercial Hire NZ Limited, this UD Trucks GW26-420 is off to work in Tauranga for Downer.
WESTLAND PRODUCE LTD - HARIHARI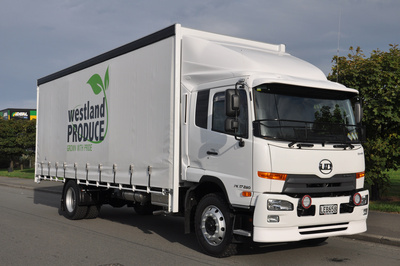 This UD Trucks PK17-280/6 is based over in Harihari on the beautiful West Coast of the South Island, it will be seen carting their produce over the Arthur's Pass to Chrischurch, check out their facebook page www.facebook.com/Westland-Produce-Ltd.
HERBERTS TRANSPORT - EDENDALE
The Engineering is by Transworx in Timaru, the monocoque crate is by Delta and the tipping deck is Transworx, the swap body is on pins and saddles and with the rear air suspension it's a simple one man operation that takes hardly any time at all.
With 280hp to burn through an Eaton 9 speed manual gearbox this will one flee truck hard to keep up with, it has also been set up with a ringfeder and full trailer gear including EBS.
Thanks to Wade and the team at Herberts for choosing UD Trucks and CVC.
WHITEROBE LODGE - MOSGIEL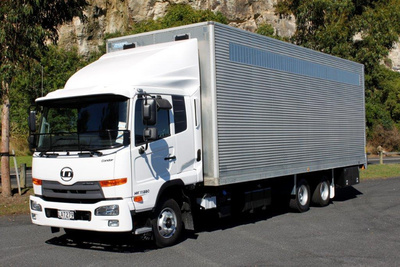 280 horsepower up front to cart the 10 horses in the back, new on the road for Whiterobe Lodge in Mosgiel is this UD Trucks MK11-280AS with a 6 speed manual gearbox fitted with a tag axle and rear air suspension to give this unit an impressive 17ton GVM, the body was refurbished and fitted by McCormick Motor Bodies in Dunedin, it can cart up to 10 race horses and be seen all over the country side.
EXCEL SCAFFOLDING - CHRISTCHURCH
This is the 8th UD Truck into the Excel Scaffolding fleet now, a UD Trucks PK16-280/6, set up to cart scaffolding gear to all the big jobs.